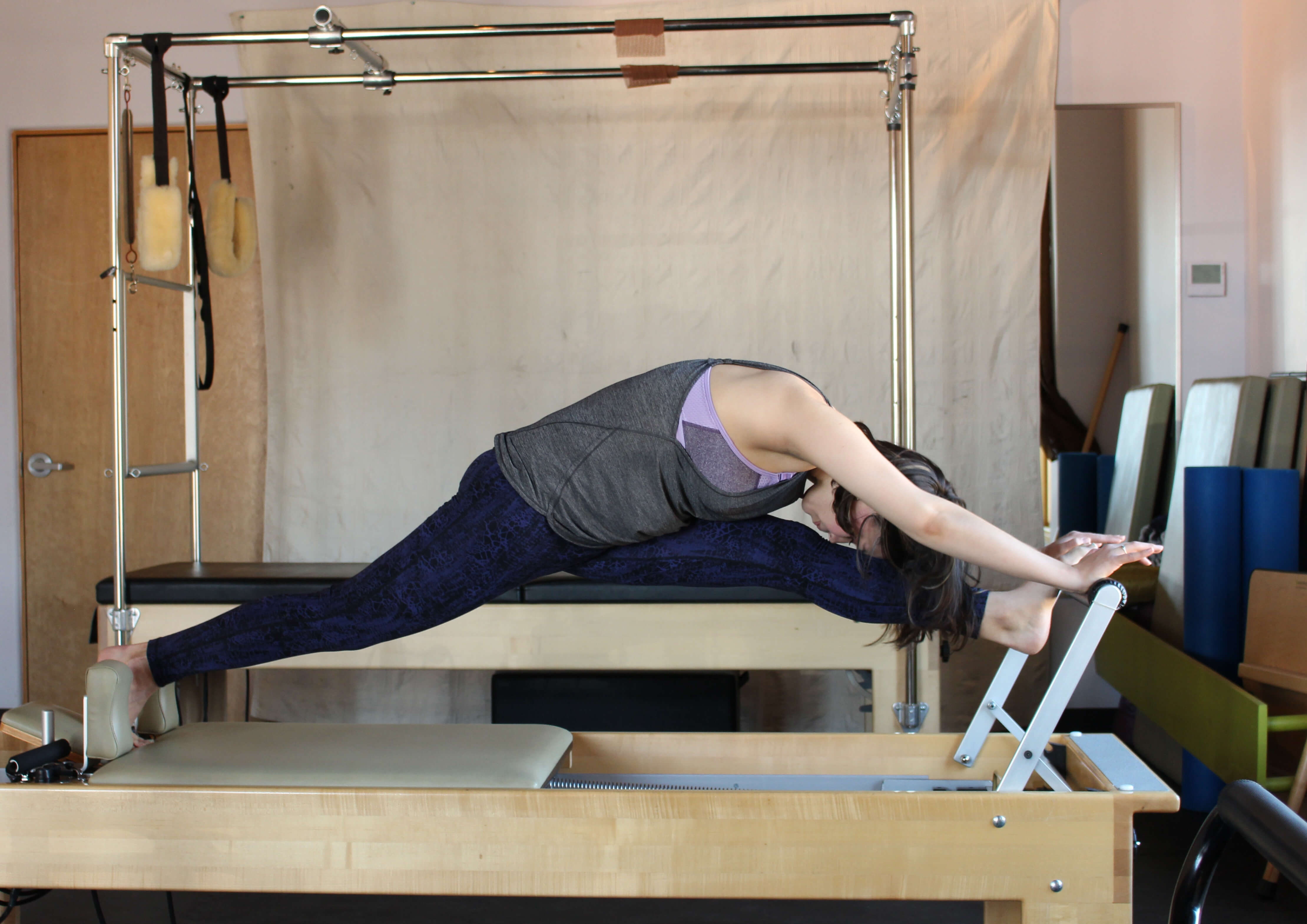 Pilates Apparatus
Regular exercise on the Pilates apparatus will attain quick results in toning the body while achieving longer, leaner muscles. Pilates apparatus uses spring resistance to help strengthen and stretch the muscles more efficiently.
We highly recommend taking at least 3 private Reformer sessions before joining a class.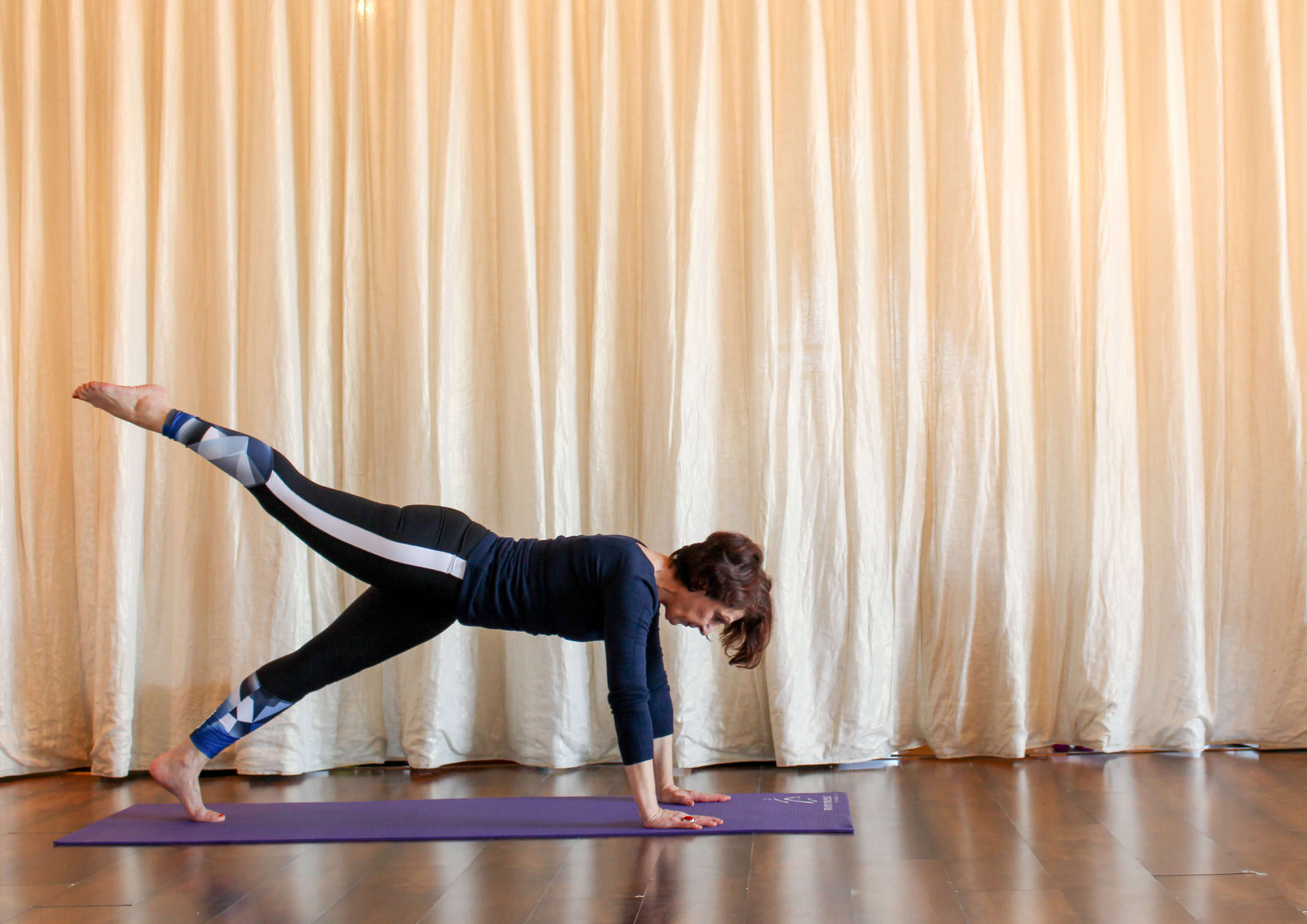 Mat Classes
We teach both Contemporary and Classical Pilates in a series of sequential mat exercises that are performed lying, sitting, kneeling or standing. Our instructors may use the Magic Circle, foam roller, and/or fitness bands and balls in contemporary mat classes to enhance building core strength fitness.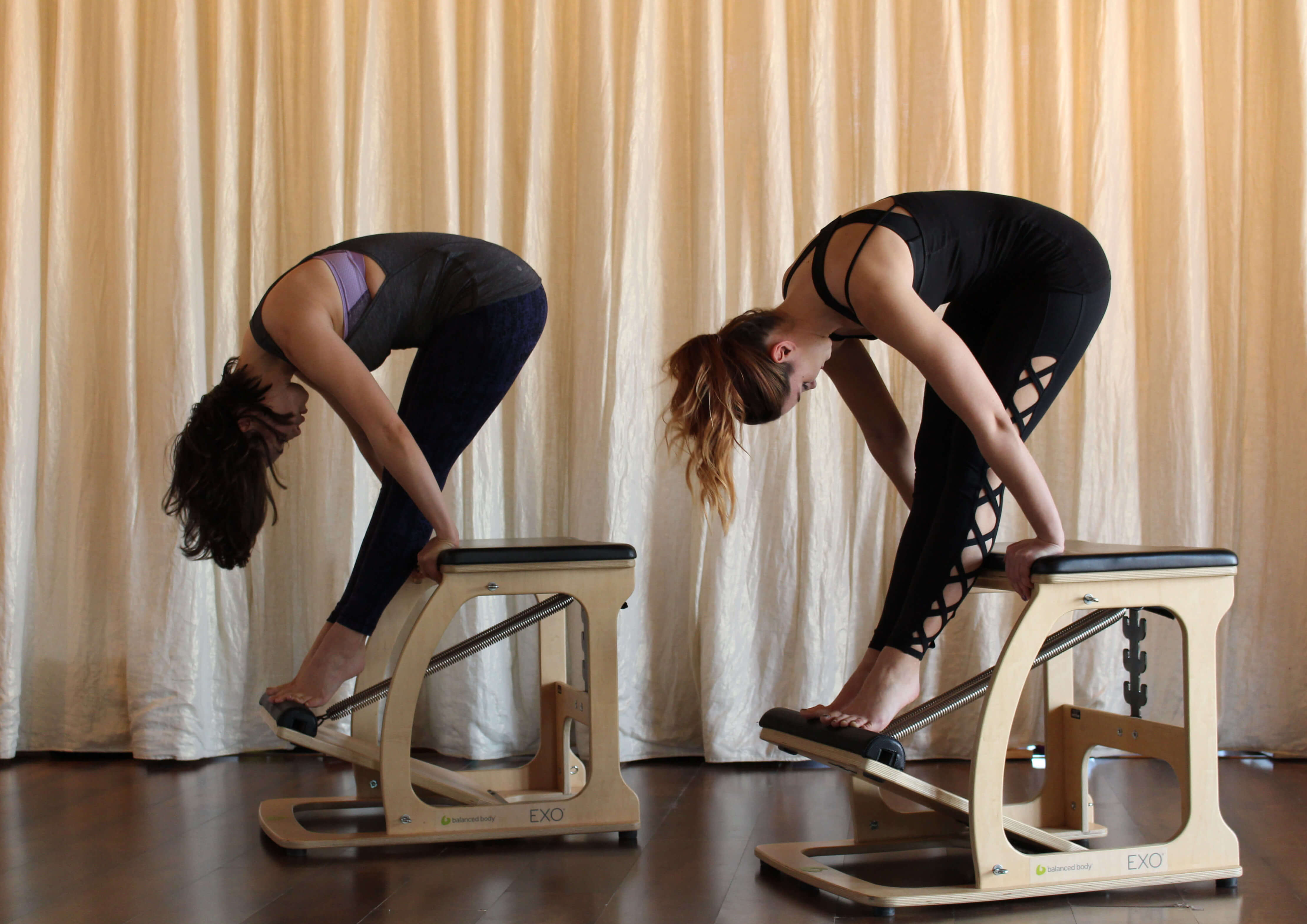 Pilates Fusion
Pilates Fusion brings together the best of MoveFit! Barre, Pilates Mat, and Reformer classes for full-body toning. The classes are easily scaled for high-energy, large group cardio workouts to core-blasting reformer work for smaller classes. Our instructors use the Reformer, chair, and props to give you a satisfying workout.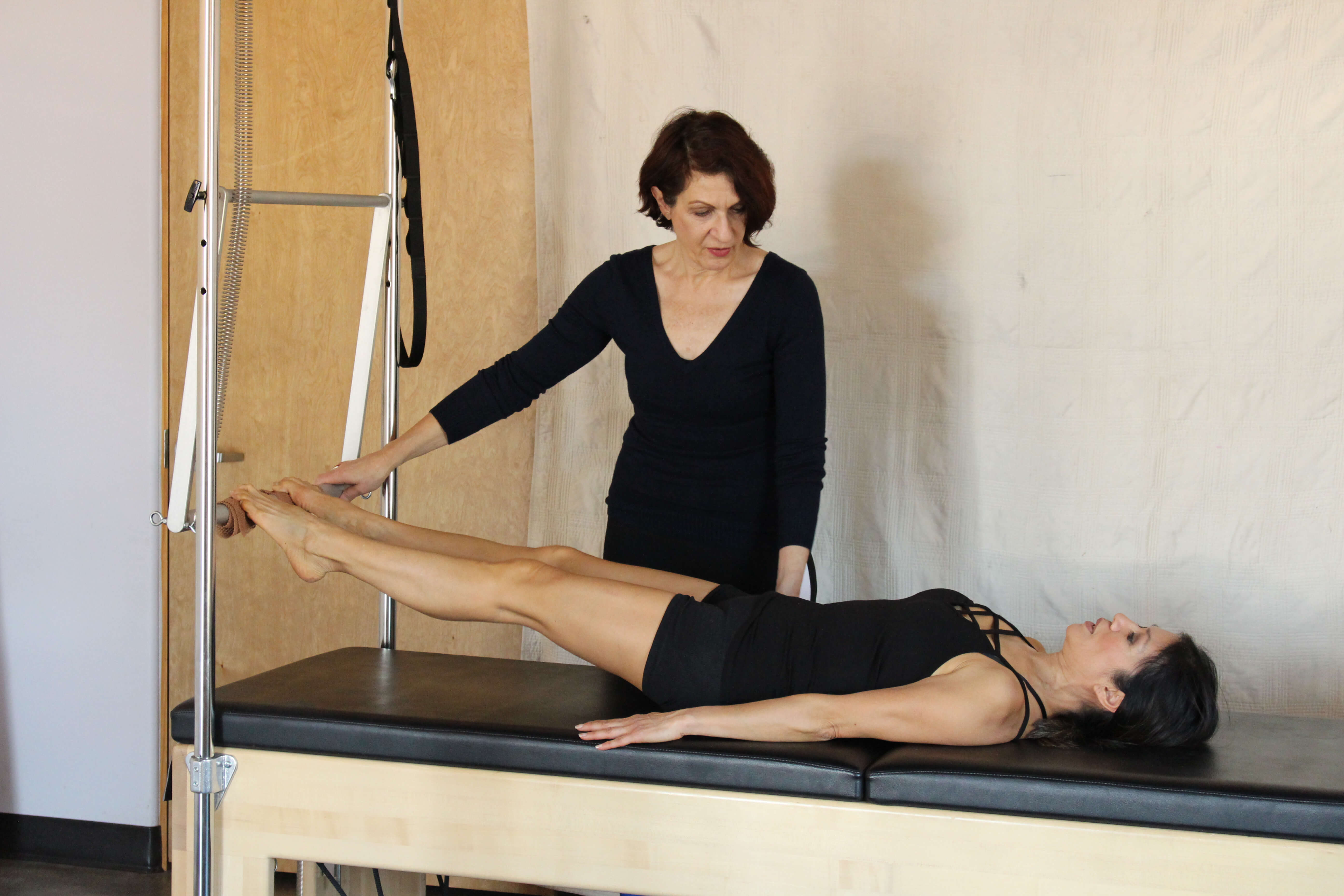 Restorative Pilates
Rehabilitating after injury, surgery or illness – or even getting moving after a long time away from exercise — can be a frustrating, painful process. Restorative Pilates uses slow, gentle movement and specialized equipment to address your unique physical challenges. Over time, this work will not only bring you back to health but provides strength and resilience to help prevent future injury. The Pilates Apparatus has been used for years in the most advanced orthopedic and sports-based rehabilitation clinics for injuries.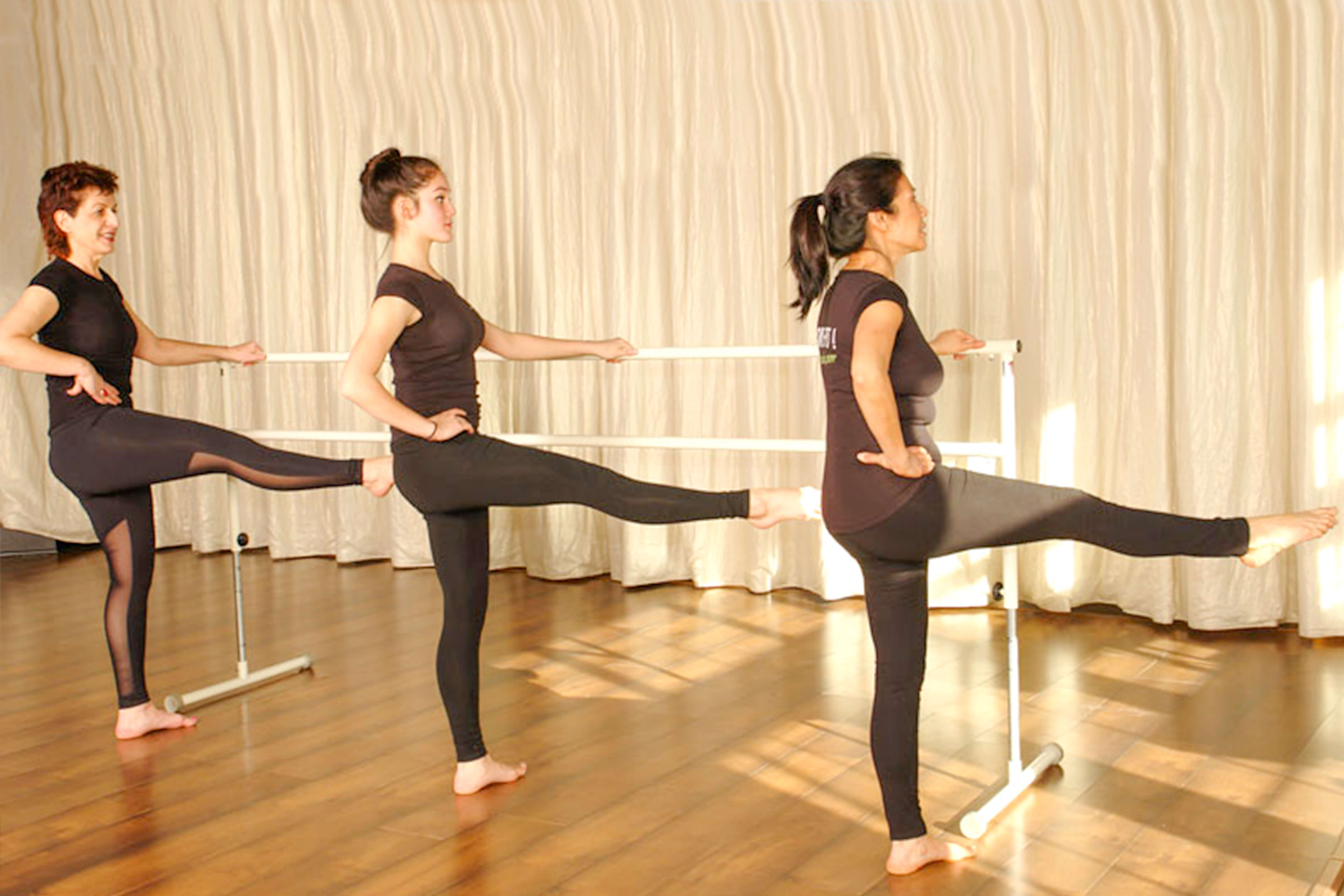 MoveFit! Barre
MoveFit! Barre is a high-energy, fat burning fitness regimen that blends the discipline of Ballet Barre with Pilates for full-body toning. With our unique combination of strength training, cardio, and flexibility series at the barre and on the floor, we offer a total body workout that can be adapted to create a challenge for any fitness level.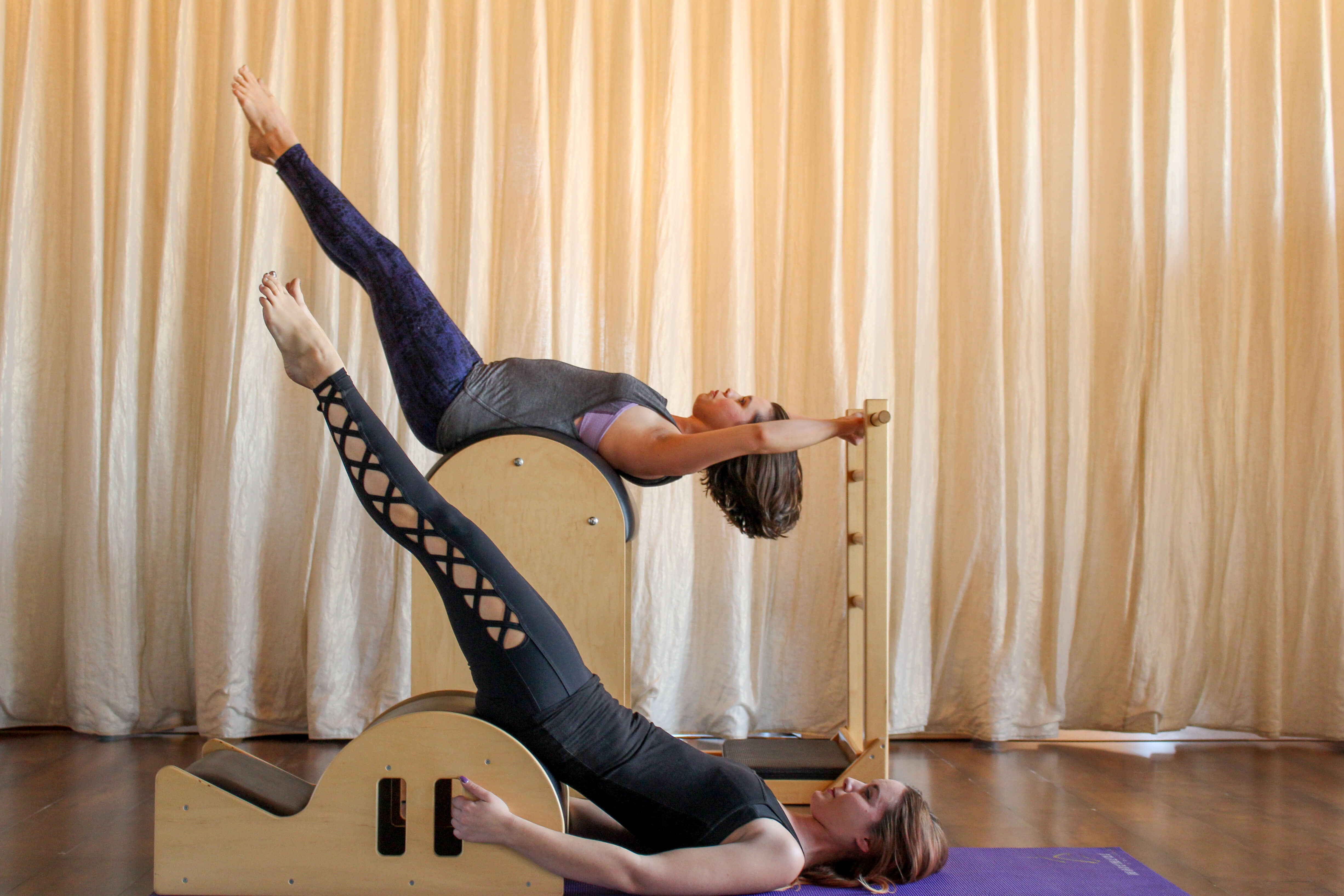 $5 Community Wellness Classes
After helping Corrales stay active and fit for over 20 years, we would like to give back with our affordable $5 Community Wellness Classes. These drop-in classes  are designed to help those who live and work here — at all fitness levels — take control of their everyday health and wellness.  Check the schedule for more information, including day and time.
Movement Studios offers one-on-one, duet, trio and group Pilates Apparatus instruction by appointment. Schedule your session today!
Pilates Apparatus Rates
$85/1 Session
$750/10 sessions
10 sessions ($75/session) expires in 3 months
$55/1 Session
$250/5 sessions
$450/10 sessions
Single session: ($55/per person)
5 sessions ($50/per person) expires in 2 months
10 sessions ($45/per person) expires in 3 months
$45/drop-in
$200/5 classes
$350/10 classes
limited to 3 students
5 sessions ($40/per person) expires in 2 months
10 sessions ($35/per person) expires in 3 months
$35/drop-in
$150/5 classes
$250/10 classes
includes Reformer, Tower, and Chair
limted to 4 students
5 sessions ($30/per person) expires in 2 months
10 sessions ($25/per person) expires in 3 months
Group Class Rates
Pilates Mat
w/ Nancy Latuja
Pilates Fusion
w/ Studio Instructor
Pilates Mat / Pilates Fusion
3 Month Unlimited Group Class Pass
Summer 2021 Special Pricing:

$267
$210.93 (21% off)
*Prices before tax
Limit one promotional price per person. Through September 30, 2021.
Movement Studios accepts payments via Cash, Apple Pay, or Check.
Schedule
10:15-11:10am
Pilates Circuit Level 4 (by appointment only)
11:30-12:25pm
Pilates Reformer
Lev. 1 & 2 (by appointment only)
1:15-2:10pm
Restorative Pilates Tower (by appointment only)
9:00-9:55am
Pilates Reformer
Level 1 (by appointment only)
5:30-6:25pm

Pilates Reformer
Level 3 (by appointment only)

7:00-7:55pm
Pilates Fusion
10:15-11:10am
Pilates Reformer
Level 3 (by appointment only)
11:30-12:25pm

Pilates Tower
(by appointment only)

9:15-10:05am
Reformer (by appointment only)
10:30-11:20am
Mat Hybrid
(Starting July 10)